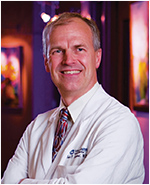 Dr. Sheppard is the President and Senior Managing Partner of Virginia Eye Consultants; COO of EyeRx Research, Inc., a pharmaceutical development company; and founder of ProVision-Network.com, a major buying group for Ophthalmologists and Optometrists.
As an internationally recognized expert in the diagnosis and treatment of ophthalmologic disease coupled with training in immunology and preclinical science, his background provides a broad base for development of ophthalmologic drugs and devices. He received the American Academy of Ophthalmology (AAO) Senior Honor Award. By peer review he has been named one of the Best Doctors in America, in Virginia and in Norfolk since 2002. Dr. Sheppard serves as an Associate and Mentor Examiner for the American Board of Ophthalmology. Virginia Eye Consultants has received the Roaring Twenty Award for three consecutive years as one of the 20 fastest growing businesses in Eastern Virginia, as well as the U.S. Chamber of Commerce National Finalist Award as the best business in Norfolk, Hampton Roads, Virginia and the Southeastern United States.
He has participated as principal investigator in over 110 clinical research trials for major pharmaceutical companies and the FDA. Dr. Sheppard has served on the medical advisory board for 41 pharmaceutical and medical device companies. He has authored over 110 peer review abstracts, journal articles, and chapters. An acclaimed speaker, he has presented over 700 invited lectures and visiting professorships worldwide. As uveitis section editor for eMedicine.com, an editorial board member for EyeNet, the AAO online uveitis committee, editorial board member of Clinical Ophthalmology and Eye & Contact Lens, and a reviewer for dozens of peer review journals, he works at the forefront of the electronic publishing age.
Dr. Sheppard joined the Eastern Virginia Medical School (EVMS) faculty in 1989 and is now Professor of Ophthalmology, Microbiology, and Molecular Biology. He also serves as Research Director of the Ophthalmology Residency Program at EVMS. As Clinical Director of the Thomas R. Lee Center for Ocular Pharmacology, he not only coordinates clinical trials, but is also instrumental in translational research bringing preclinical studies into practice. He holds a patent for photodynamic therapy of the eyelid surface. During a period of major sociopolitical changes in transplantation reimbursement, he was Chairman of the Board of the Lions Eye Bank of Eastern Virginia and now serves as a Medical Director.
Dr. Sheppard received a Masters degree in Medical Science and an MD from Brown University on a full Armed Forces Health Professions Scholarship. After an internship in pediatrics at the University of Virginia, he spent four years with the U.S. Navy as 6th Fleet Medical Officer and Chief of Family Practice. He completed Ophthalmology residency at the University of Pittsburgh Eye and Ear Institute and a 30 month fellowship in corneal diseases, uveitis, third world blindness, and ocular immunology at the Proctor Research Foundation at the University of California, San Francisco. He has been funded as principal investigator for 3 major peer reviewed competitive grants from the NEI for uveitis, corneal immunology and dry eye. Dr. Sheppard has enjoyed serving on the EVMS Development Committee, the College of William & Mary Steering Committee, the Knights of Columbus, the American Legion and as Founder of the Virginia Eye Foundation.