Every day many people struggle with the symptoms of dry eye, often without realizing that what they're experiencing are symptoms. Of course, dry, itchy or irritated eyes are all possible symptoms. But dry eye can also cause sensitivity to light, a foreign body sensation, and even short periods of excess tears. Stringy discharge, difficulty keeping the eyes open, and blurry vision are other common indicators.
Dry eye often occurs when the meibomian glands do not produce enough oils (lipids), or meibum, to create an effective tear film. The lipid layer sits on the surface of tear film and prevents tears from evaporating too quickly. Without an adequate lipid layer, the tears evaporate, prohibiting the eye from receiving the necessary hydration.
The EyeGiene® Insta-Warmth System™ applies calibrated warmth to your eyelid, opening the meibomian gland and thinning the oil. This facilitates flow and stabilizes the natural tear film, allowing the tear film to function normally.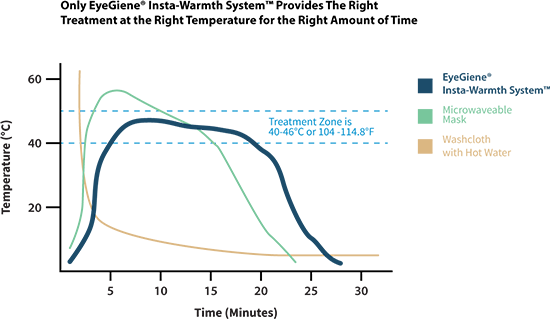 I have blepharitis and it has helped tremendously…If you want to end your dry, scratchy, irritated eyes this is the product to use, GREAT for travel!
It improved my dry eye problem immediately and allowed the glands of my eyes to produce natural tears. The mask is comfortable to wear and very relaxing.
I've been using this for about 3 years and never leave home without them! … I use these every night! Not only does it help to put me to sleep, but then I wake up with normal eyes in the morning!
The size of the eye pieces fit my eyes better than all the other eye masks that I've used. The headband holds the eye pads snuggly to your eyes so the warmth really reaches them.
My eye doctor mentioned it to me…and upon using it nightly have had zero "dry eye attacks" at night causing poor sight and urgent visits to the eye doctor.
A 'must have' for those with dry or fatigued eyes or those who travel often. Given my constant exposure to screens and devices, my ophthalmologist recommended this to me for relief and relaxation. When I was on the road (pre-Covid), it was always in my carry-on. Highly recommend!
I love this product. I'm on my third box! They provide just the right amount of heat, for just the right amount of time. Not only does it help dry eye, but it's quite relaxing. It's like a warm hug for my eyes!
EyeGiene® is a terrific warm compress 'goggle' that fits in well for my patient's blepharitis treatment kit. I have been using EyeGiene® for more than 3 years now, and can attest to strong patient acceptance. Patients are returning to the office to purchase the EyeGiene® heating pad refills.
This product is outstanding!! My eye doctor mentioned it to me…and upon using it nightly have had zero "dry eye attacks" at night causing poor sight and urgent visits to the eye doctor.
This is surprisingly comforting on the eyes. The amount of heat is just right and the pads are easy to use.
EyeGiene® is a wonderful device that allows you to have the patient stay on top of their dry eye disease and essentially give them the ability to maintain a good flow through the meibomian glands.
This is the best eye product I have ever found. It is very relaxing and puts me right to sleep at night. It conforms well to the eyes and the heating is very consistent and last for about 1/2 an hour which is just right. It has improved the dry eye problem I was having. I can't say enough good things about the product.
I really like this item for travel. It gets comfortably warm and is light and easy to manage.
EyeGiene® Insta-warmth system is awesome! The packets heat to the perfect temp for about 10-12 mins. No timer needed-they start cooling down when time is up! Mask fits tight even for deeper set eyes like mine! Order more heat packets!